Home
News & Information
News
Addressing TBML Remains Difficult; Corrosive to Developing Economies, New Publication Find
Posted on: 2023-02-02 00:00:00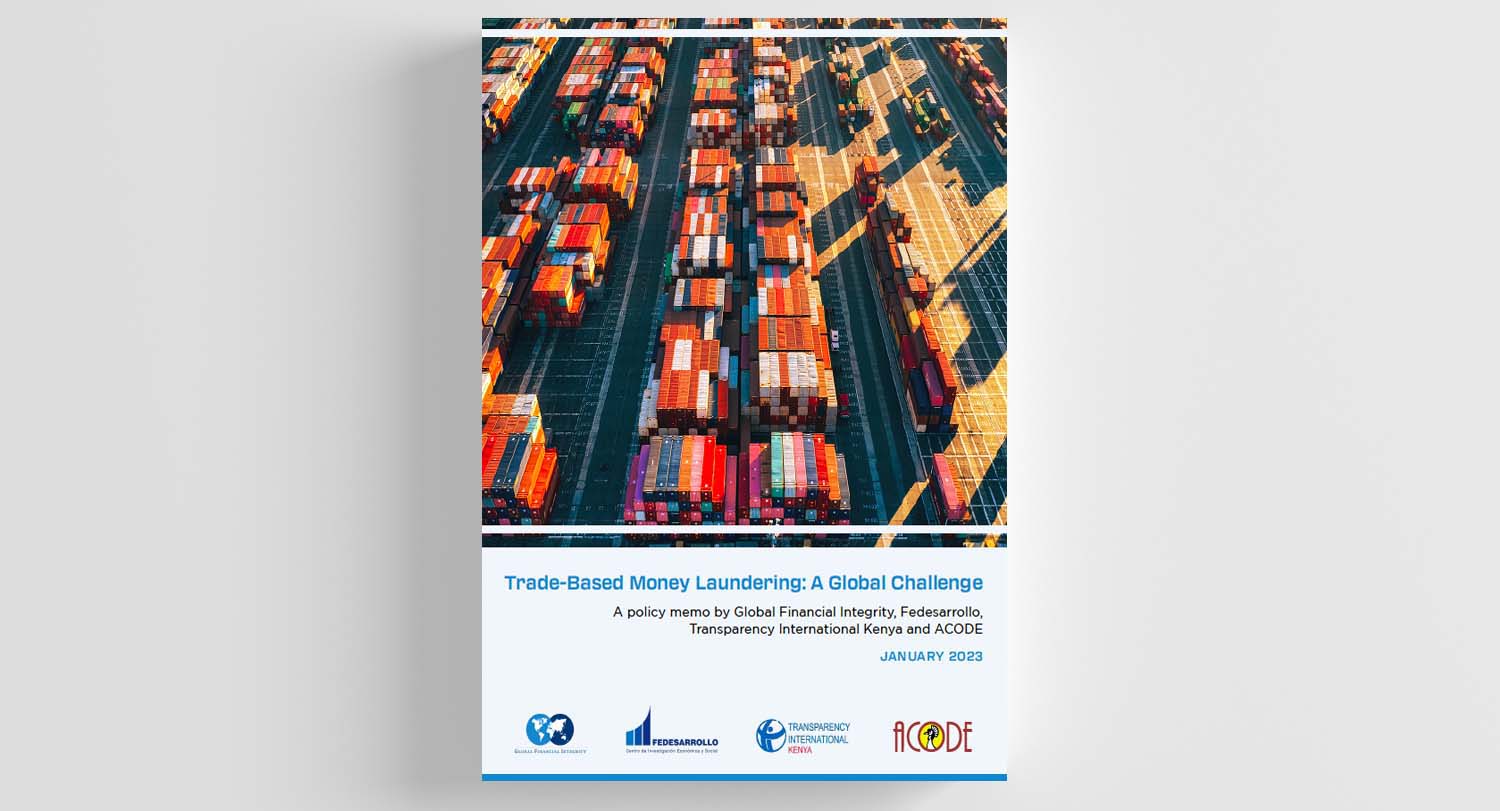 Washington, DC @IllicitFlows – A new publication analyzing the scope and characteristics of global trade-based money laundering (TBML) finds that this illicit activity poses complex problems for law enforcement while also undermining global development. Indeed, while various estimates put TBML activity in the hundreds of billions or even trillions of dollars annually, "a comprehensive mapping of known TBML [court] cases worldwide from 2011 to 2021" identified just US$60 billion in money laundering, according to the paper. Highlighting the development impact, the study noted that "when TBML goes unchecked, it has adverse effects on economies and societies as it perpetuates criminal activities …corruption, and tax evasion."
The paper, Trade-Based Money Laundering: A Global Challenge, was co-authored by Global Financial Integrity (GFI), Fedesarrollo, Transparency International Kenya and Advocates Coalition for Development and Environment (ACODE) and draws on the technical and regional expertise of each of the organizations – based in the United States, Colombia, Kenya and Uganda, respectively. The study analyzes the numerous challenges of TBML from a global policy perspective.
The publication describes TBML as "disguising the proceeds of crime [by] moving value through the use of (legitimate) trade transactions." The report provides an in-depth analysis of the most common TBML methodologies, which include over- and under-invoicing of goods; misrepresentation of goods being shipped; multiple invoicing of goods; over- and under-shipment or phantom shipments; the black market peso exchange; and the use of informal value transfer systems. Mis-invoicing was the most common methodology, representing 63 percent of cases.
To better understand the scope and characteristics of TBML, the research team presents a comprehensive mapping of TBML cases worldwide during a 10-year period in which cases were identified using official, publicly available sources. Some 77 countries were affected by this activity. The United States, Mexico, Colombia, China, and Hong Kong were among the most affected nations.
In terms of the underlying criminal activity that generated laundered proceeds (i.e the predicate offenses), the most common included drug trafficking (43 percent of all predicate offenses mentioned), tax evasion/tax fraud (18 percent), other fraud or scams (7 percent) and corruption (6 percent). The report found that almost any type of merchandise can be purchased to launder illicit proceeds used in TBML schemes. The most common included cars/transportation vehicles (24 percent of all types of products mentioned), metals and minerals (17 percent), agricultural products (13 percent), and textiles (11 percent).
This publication was produced as part of Capacity Building to Address Illicit Financial Flows and Boost Domestic Resource Mobilization, a project implemented by Global Financial Integrity in partnership with leading civil society organizations in Kenya, Uganda, and Colombia and with the support of the Government of Norway. The project aims to curtail illicit financial flows (IFFs), which are illegal movements of money or capital from one country to another. Left unchecked, IFFs contribute to insecurity and deprive developing countries of much-needed resources and revenues. Through research, advocacy, and capacity-building, the project raises awareness of this issue and promotes effective policy solutions that leverage the expertise of civil society, governments, and international organizations.
PDF Version
---